Your Wedding at Radford Mill Farm
For several years we have been working with couples to design their weddings in our natural, eco friendly environment. We have no set packages but want you to be able to create a friendly and relaxed event in our beautiful grounds.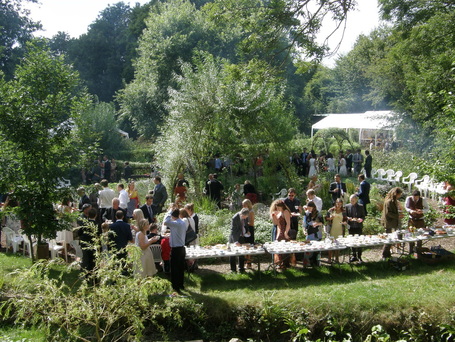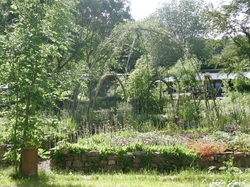 There are two venues:

The Piggery
The Piggery is very attractively landscaped, next to the Cam Brook, with an indoor space and adjoining kitchen to supplement our marquees. There is a circular raised garden with a living willow bower and an avenue of trees running down to the weir, both of which are suitable for a personalised ceremony. (We are not licensed for formal wedding ceremonies but many guests come on from a local service in the Bristol/Bath area.)
---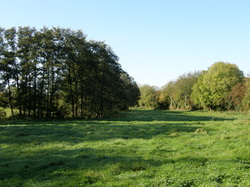 The River Meadow
The River Meadow is a long field running alongside the Cam Brook, with a wooden shelter for catering, access to water and electricity.

Both venues have fire pits, composting toilets, field showers, and plenty of private camping space if you want to camp over the weekend. You are welcome to arrive anytime from Thursday and stay until Monday morning…..or longer.
---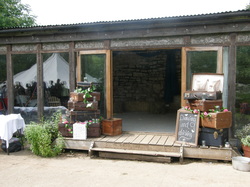 Our weddings are as imaginative and creative as our visitors, who often bring their friends to decorate the marquees and bring their own style to the occasion. However, we will provide ideas and do as much of the work as you want. We also have links to local providers and we give a discount on our prices to guests who want us to provide the catering and drink.

---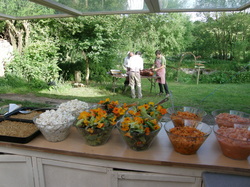 Most frequently we are asked to provide a hog roast (cooked in our cast iron oven which gives it a delicious smoked flavour). This is accompanied by apple sauce, bread, and a range of salads, for example leaves and flowers, carrot and beetroot, coleslaw, tomato and cucumber in basil dressing, potato mayo and we always provide a vegetarian alternative.



However, we have provided a wide range of alternatives, including a fully vegetarian meal (using our giant paella pan), three course meals, buffets, afternoons teas (using our antique tea sets), picnics, as well as finger food and canapés. We can also provide a pre-wedding farmhouse meal for the immediate family and cocoa and marshmallows round the fire late at night.
---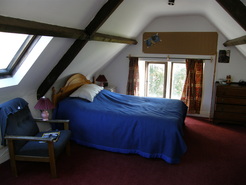 We can provide farmhouse rooms, and also there are a range of local bed and breakfast providers in Radford and Timsbury and the surrounding areas.
Contact us for a list of nearby B&B's.
Alternatively you might decide to hire one of our Shepherds Huts, which are equipped with a bed, cosy duvet, table and chairs, camping stove and antique jug and bowl.
---